---
News and Events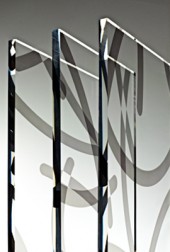 A transparent sheets "Flysafe" is a new design on a transparent plexiglas sheets invented with respect to bird protection. This material fulfills the noise-protection screen limits, is tested by an Austrian laboratory Biological Station Hohenau agains bird crash. Flysafe can fully substitute plexiglas equipped with a brushed (sandblast) stripes or adhesive tape stripes. In terms of pricing Flysafe is approximately by 15-30% more expensive than a clear PMMA sheet. There is however a minimum order amount of 10 tuns.
Our company produce transparent noise-protection panels in a four-side frame of stainless steel including sealing. These panels can be installed into noise-protection screens up to a 10-metre height. The advantage of this fully framed panel is a use in atypical constructions, wrapped or curved constructions.
Mobile noise protection barriers is a temporary wall, which can be as temporary solution or a testing construction before a standard barriers is designed and made. However it is an ideal solution for saving the environment from noise while another project of housing or production is under construction. It is also a protection against dirt and dust from site and could be considered as a fence at the same time.
Current projects
| Client | Construction |
| --- | --- |
| Metrostav a.s. | Modřany - U dubu |
| ŘSD ČR | R46 LP Prostějov |
| M-SILNICE a.s. | I/37 Chrudim obchvat |
| SDS EXMOST spol. s r. o. | Přeložka ul. Bílovecká, Ostrava |
| GEOSAN GROUP a.s. | R6 Lubenec - Bošov (clony proti oslnění) |
| Subterra a.s. | Modernizace trati Rokycany - Plzeň |
| EUROVIA CS a.s. | Modernizace trati Horusice - Veselí n. L. |
| Subterra a.s. | Optimalizace trati Bystřice n.O. - Český Těšín |